Red Oak Farms - Horses Available
We at Red Oak Farms occasionally offer our horses for sale or assist in leasing one of our boarded horses. We pride ourselves on our "honesty first policy". Your safety and the horse's happiness are our first and foremost priorities! If you don't see what you are looking for here then give us a call and we would be happy to assist in your search for the right equine partner. We encourage you to have any sale horse that you are seriously considering vet checked prior to making an offer.
Horses For Sale
We are currently listing 4 of our lesson horses for sale. if you are looking for a first horse this is an amazing opportunity.
Please contact us for details on which horses are available.
Red Oak Farms
Horses Available for 1/2 Lease
Only $200/ Mo. or $150/Mo. for Lesson Riders
Jamie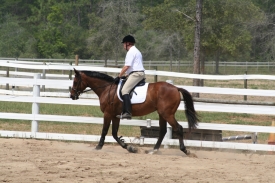 Jamie is a 10 year old Throughbred. He enjoys dressage, trail riding and hunters. Great for an intermediate rider looking for new experiences. He is 16.1h and is off the track. He currently giving lessons in Trail, Dressage and a little Jumping. Currently leased by Manning 6/12
Skip
Skip is a 14.2 h Pinto Pony. He is 5 years old and a good trail horse. He also loves to jump. Great horse for a confident beginner or intermediate rider learning to jump. Currently leased by Helena 6/14